Why People Choose Germany For Lithium-Ion Batteries?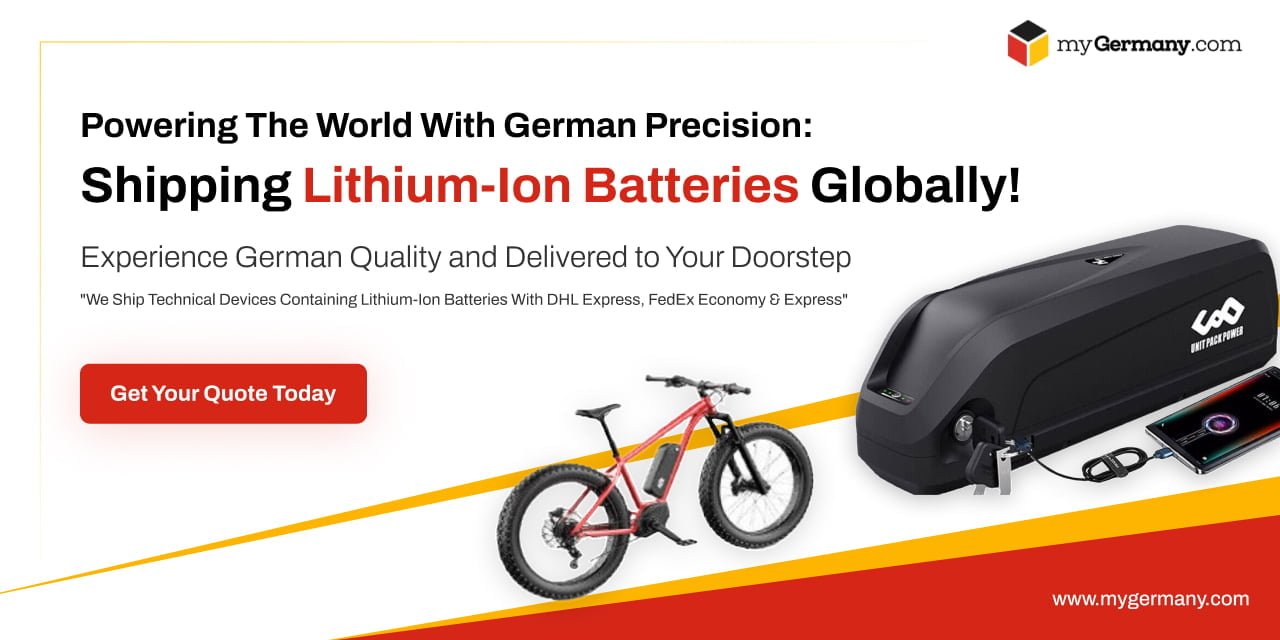 In recent years, the global demand for lithium-ion battery technology has experienced a remarkable surge, with experts predicting an impressive 18% annual growth in the years ahead. This exponential rise can be largely attributed to the ongoing electrification of the transportation sector, primarily driven by the adoption of electric vehicles (EVs).
However, this heightened energy density also brings about potential risks if not handled correctly during transportation. The airline industry, in particular, has become increasingly concerned about the lack of awareness surrounding the potential dangers posed by lithium-ion batteries, leading to a rise in incidents of intentionally mis-declared or non-compliant lithium battery shipments.
Fortunately, myGermany lithium battery shipping solutions or shipping Lithium Batteries For e-Bikes simplify this process while strictly adhering to all necessary rules and regulations. Curious to learn how? Let's delve into the details to find out…
What is a Lithium-Ion Battery?
Lithium-ion battery, also known as Li-ion battery, is basically a type of rechargeable battery that has the capability to get charged multiple times, making it a versatile power source for a wide array of applications. Some of the primary applications of lithium-ion batteries include consumer electronics, electric vehicles (EVs), energy storage systems, cordless power tools, aerospace, and medical devices.
Here some graphics of Lithium-Ion Batteries for power bank and eBikes:
Why Choose Germany to Buy Lithium-Ion Batteries?
There are several reasons which prove why Germany lithium battery export services can be advantageous:
1. Technological Expertise: Germany is a gem of advanced technology and engineering capabilities. The country has a great focus on research and development of battery technologies. In fact, many German companies and institutions have already made tremendous advancements in lithium-ion battery technology.
2. High-Quality Products: German manufacturers basically adhere to strict quality standards and regulations, ultimately ensuring that the batteries they make meet all safety requirements and performance standards.
3. Established Supply Chain: Germany has a well-developed supply chain for battery materials and components. This helps them in getting a steady and reliable flow of resources when needed for battery production.
4. Export Potential: German-made lithium-ion batteries are not only popular domestically but are also exported to other countries. This indicates the trust and demand for German battery technology on an international level.
How myGermany Help in Lithium-Ion Battery Shipping?
At myGermany we offer shipping services for both lithium batteries that are integrated within equipment and for those that are shipped separately as individual items. We use only trusted shipping carriers such as FedEx Economy, DHL Express, and FedEx Express for these battery shipments.
myGermany Process for Lithium Battery Shipping Services
Here's our step-by-step process for shipping lithium-ion batteries internationally:
1. Determine Type of Lithium Battery Getting Shipped
Lithium-ion batteries are basically classified with specific UN numbers based on their type of packaging and state of charge, which include:
– UN3480: for lithium-ion batteries
– UN3481: for lithium-ion batteries contained in equipment
– UN3090: for lithium metal batteries
– UN3091: for lithium metal batteries contained in equipment
At our company, we carefully check the battery type before proceeding with shipping so, that we can easily comply with all associated requirements and restrictions of lithium battery type.
2. Obtain All Necessary Approvals
As mentioned earlier, lithium batteries pose risks and are often classified as dangerous goods. Therefore, at myGermany, we obtain all the necessary approvals for transporting lithium batteries via various modes such as air, sea, or road. As for shipping lithium batteries by air, we take approval from the International Air Transport Association (IATA).
In order to be eligible for transportation, lithium batteries have to meet a few performance standards as outlined in the United Nations Manual of Tests and Criteria. These tests verify the batteries' safety and suitability for transport. As a responsible shipping provider, myGermany ensures that the batteries we ship pass all relevant tests.
4. Pack and Label All Batteries Correctly
When shipping lithium-ion batteries, it is crucial to keep a check on a few packaging guidelines. Like batteries shipped need to be securely isolated from each other and any conductive surface to prevent short circuits. myGermany does follow all these practices for giving a better user experience to its customers.
Furthermore, we diligently label all lithium-ion batteries in accordance with Class 9 dangerous goods guidelines. The labels provide vital information for all handlers, like battery type, dimensions, weight, capacity, and mode of transport.
5. Train Employees and Follow Safe Handling Practices
Ensuring our employees' safety and the materials they are handling is of utmost importance to us. Therefore, we give all our personnel comprehensive training in safe handling practices.
6. Follow Proper Documentation Procedures
Prior to shipping lithium batteries, we make sure to fill in the required documentation like the Dangerous Goods Declaration (DGD). This essential documentation is then provided to the carrier to ensure that all regulations pertaining to the transportation of dangerous goods, like lithium batteries, get followed.
Doing lithium battery delivery worldwide is no easy job. It requires careful consideration and adherence to related regulations to assure the safety of both the products being transported and the individuals getting involved. Hence, make sure to choose the right fellow partner for shipment.